In this dumpster-fire of a year, I received yet another blow to my liturgical desert-life.  My home parish's historic church building, located at 8th and Sycamore in Columbus, Indiana, will be demolished shortly after Christ the King weekend, to make way for a multi-million dollar apartment complex.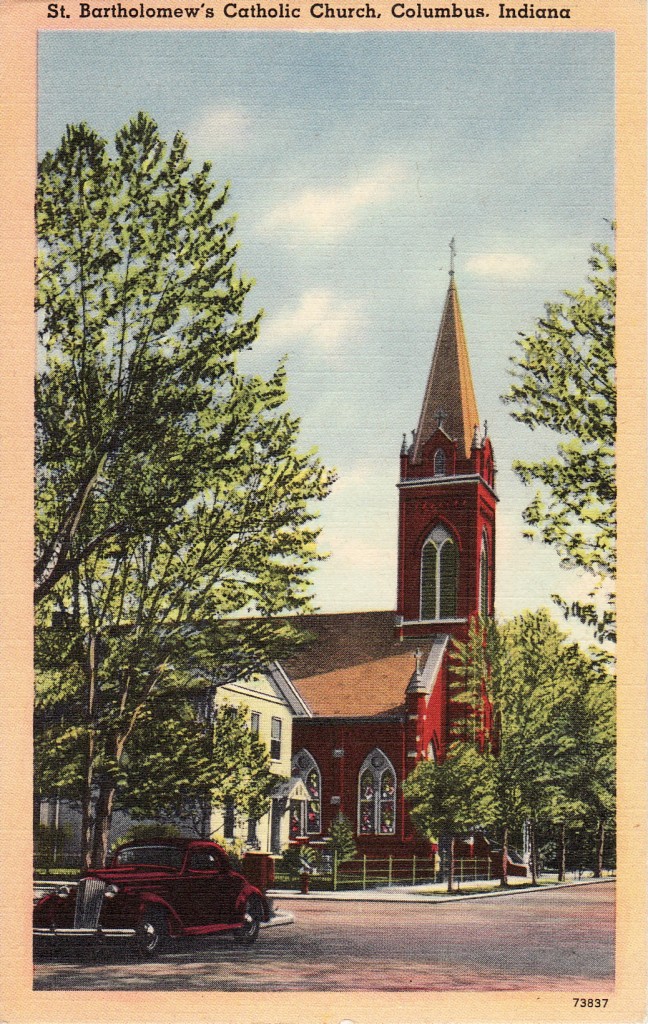 Great.  Yet another historic landmark (the church's cornerstone was laid in 1891) bites the dust…bulldozed under a wave of American consumerism and lack of religiosity.  Not that I'm bitter.
But, wait.  The Catholic historian inside me tries to talk some sense: Roman Catholic resources are limited.  The Archdiocese can't afford to keep paying bills on a (literally) crumbling space.  American Catholics were too optimistic in developing parallel resources that couldn't be supported once budgets cost more than a shoestring.  And, don't forget that the building has been ABANDONED for nearly twenty years.
Such cold-hearted logic must prevail.  And, yet, I'm still sad.
Why should I have such sadness about a space—once clad in angels and filled with music—that is now just another bare, ruined choir?  What does this necessary right-sizing of diocesan property have to do with the liturgical life?
If my year has been a shade like anyone else's, I'm guessing that a lot of our liturgical lives look a
lot like the inside of this dying church building.  The sanctuary is bluntly empty.  The painted-over angels cascade in peels from the walls.  Sacristy drawers hang slack-jawed, left open by the hands of the last looter who broke in, hoping to find a lost coin or two.
Has the coronavirus robbed us of our liturgical lives?  It has impoverished our sense of community with conspicuously empty pews.  Some days, we might feel as if more demons than angels are bouncing off our walls.  And then there are those among us, sitting in our living rooms on a Sunday morning, hands and mouths empty, without sacramental participation.
Yes, for some of us this year, the spaces and places of our liturgical lives exist only in memory.  As for me, I didn't need to have a beloved liturgical space crushed into a parking lot to make the point stand out.  But, thank you, 2020, it sure does help.
On the other hand, perhaps it is most appropriate to confront the demise of "the old church" during this Season of the End-Times.  Its coming has invited me to confront long-dead memories.  I can imagine each corner of that well-loved space, from its mysterious choir loft (already verboten because you could fall through it in the 1990s), to its grey-carpeted nave, to its sacristy packed with decades of treasures.  In my mind's eye, I can see where I stood when I first served an Easter Vigil Mass…where I helped drag live Christmas trees into the sanctuary (before the county fire department put the kabash on that kind of thing)…the piano bench where I first sat, and became a church musician.
These spaces and things form my own sacramental memory—but they exist only in memory.
Advent asks us to move through a desert of memories, for the beginning of the end of time is coming.  Christ is coming, and it seems we must be razed to the ground before we may be raised from the dead.  Just possibly, the destruction of my home parish's historic building might remind me, or us, that empty shells are not meant to hold worshipping Christians captive—in memory or in life.  There is something more to the liturgical life, even, than having the privilege of gathering in person with one's community in a particular space.
The Mystical Body of Christ is real—and nothing can more powerfully present that reality to us than the absence of our sacramental spaces, and sacramental participation.
This Advent will likely be another desert time for all of us—whether or not we're mourning the loss of a beloved space.  Many of us have far deeper things to mourn.  But may this Advent be more than bare, ruined choirs and bare, ruined hearts.  May it be that perennial season of hope: a renewal of hope…a renewal of life.  May we all be ready for the coming of the Lord.  And some bulldozers.